An open floor inspection, either for a pre-sale or after-sale, is necessary to evaluate the conditions of a house.
These inspections are carried out by specialized staff, in this case, inspectors, who are certified to give a truthful report on the issues found. In this way, you can then tackle these deficiencies in the right way, or simply have the reassurance that everything is in perfect conditions.
Floors will shed a lot of information about the state of a house. It is common that during an open floor inspection some problems are detected due to multiple factors.
For us, at Carolina Custom Homes, it is very important to advise you on this subject, so that you know what to expect during an open floor inspection.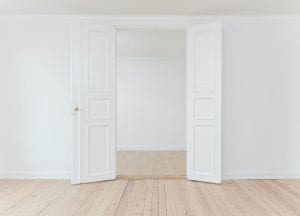 What to expect during an open floor inspection?
Here are some problems that can be detected during an open floor inspection:
Dry cupping: This is one of the main problems encountered when doing an inspection, especially on hardwood floors. It is mainly due to a seasonal change that causes high levels of humidity in both winter and summer.
To avoid this situation, a good heating system that allows the balance of all heat points to be monitored through a sensor must be installed.
Floor gapping: wood tends to absorb moisture and then release it into the environment, therefore, a wooden floor is affected by the climate that surrounds it. If the humidity of the wood, when laying the floor, is higher than that of the climate where it is installed, it will try to balance that by releasing humidity. But if its humidity is lower, then it will absorb water and grow and spread creating gaps.
To avoid this, it is best to buy quality wood that is already treated and packed to withstand climate changes. It is also important to always listen to expert advice.
Rotten floor due to toilet leakage: this issue is really common in all types of floors, but it causes greater damage on wood floors. To avoid this, change the internal connections for the safest ones, close the water flow and let the rotten section dry, then cut and replace. It is important to re-level the floor.
Erosion of the soil and stagnant water around the house: wooden floors with too much moisture that sink and become damaged inside the house are sometimes the consequence of eroded floors and stagnant water around the house. This causes a tremendous climatic unevenness, and even more so if the base of the floor faces the ground directly.
Poorly installed drains and window wells: this also causes the floor inside the house to become damaged, rot, weak, etc. Houses with a basement are generally the ones affected by this issue since water recollection occurs there, and if the drainage system isn't functional it will inevitably lead to major damages. To avoid them, the installation of the window wells, as well as their respective drainage system, must be put in the hands of experts.
Uneven floors: when a wooden floor is inspected one of the anomalies that are frequently found is unevenness. Most of the time, this is a problem caused by poor installation, since sometimes the sanding is not done appropriately, resulting in an uneven floor.
Other times this happens due to landslides at the place where the house is located.
Knowing the exact conditions of your floor is essential to find effective solutions
Finding a qualified inspector is the perfect guarantee of an accurate report at the time of an inspection, so selecting the correct person is key. Your inspection must be ethical and objective to obtain reliable results of what was examined.
If you need experts for your project do not hesitate to contact Carolina Custom Homes, we are here to help you.